Providing Citizens Advice Hart training to frontline workers in other local partner organisations to become Advice First Aiders.
This free face-to-face training will give individuals and groups the skills to triage for advice, deliver initial guidance and refer to Citizens Advice when needed.
Our half-day training course will give you the knowledge to deliver 'advice first aid'. You'll learn how to navigate effectively through the information on the Citizens Advice website to support people who cannot do so for themselves. You'll also learn how to recognise situations where more than advice first aid is needed and how to contact our service when needed.
We'll stay in contact with you after the training so that you can give us any issues you've been getting, get help from us with any problems you've been facing and let us know if we can provide you with any further support.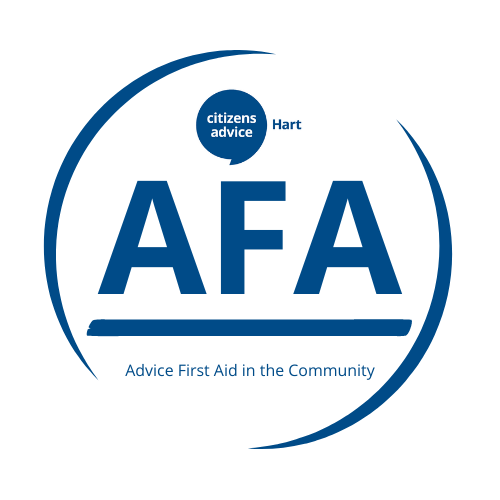 Existing Advice First Aid Partners
If you are an existing partner, you can make a referral or record an advice interaction here
Partners currently involved in Advice First Aid
These are some of the partners currently delivering Advice First Aid.  Click on the logos to open the partner websites.
Cambridge Primary School Family Support Team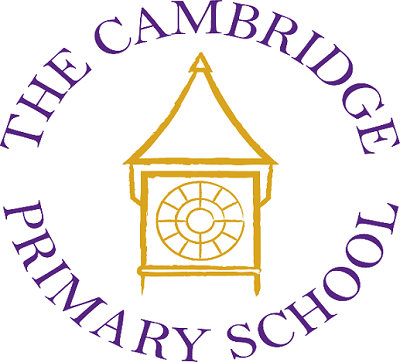 Other AFA partners include:
Alzheimer's Society
Andover Mind
British Red Cross Health & Local Response / Social Prescriber for Whitewater Loddon PCN
Cambridge Primary School Family Support Team
Christians Together in Fleet & Church Crookham
Church Crookham Parish Council
Communicare
Fleet Baptist Pre-School
Fleet Library
Fleet Town Council
Hart & Rushmoor Family Support Service
Hart Foodbank
Hart Voluntary Action
Hartley Wintney & District Over 55 Forum
Local Constituency Office of RT Hon Ranil Jayawardena MP
Minding The Garden
Odiham Book Exchange
Odiham Cottage Hospital
Patient Participation Group, Whitewater Health
Samaritans (Farnborough Div)
St John The Evangelist, Hook
The Friendship Group, Heckfield
Yateley and Blackwater Womens Insititute
Yateley Community Food Pantry
Yateley Library
Thank you Marcia. It was lovely to meet you. Very enjoyable and extremely informative. Recognising emotions is huge, I have learnt that most recently. One of the best training courses I have been on. Thank you.

Thoroughly enjoyed the session thanks. I learned that pretty much most topics you can think of are fully answered on their website and in normal everyday language. It was impressive. Yes, I enjoyed it, good balance of information and a couple of tasks to do with a partner which were fun rather than being awkward. The tips on how to open people up and then pull out what they actually wanted help with, were great and it was good to be with people from other departments.

Although I do not really deal with Citizens Advice queries on the Housing Register, I did find the course extremely interesting and useful. It was good to get an overview of exactly what they deal with, and I have to say their website is amazing. The trainer was very knowledgeable and delivered the training well.

I thoroughly enjoyed the course. Marcia was an extremely lovely lady with loads of knowledge and experience, and it was fun to listen and engage with her and the other people on the course. There was lots of smiling, laughs and it was all very relaxed and inclusive. I learnt a lot of things I didn't know, and I am now aware of how to signpost to more organisations and also how it is an organisation open to everybody. I also managed to network and advise that Charlotte and I can also complete attendance allowance forms, PIP forms and blue badge forms amongst others.

I did enjoy the CAB training. I thought it was fun and interesting. We covered other topics such as communicating with people, behaviors' and personalities and barriers to successful communication which was very informative. I learned a great deal about the CAB website and how much advice and information is available in a wide range of different areas. I had never really explored the website myself and think I will now use it a lot more for information and advice. I enjoyed the interaction with others during the course when doing different exercises as its always good to hear other people's ideas and experiences. Overall, the course highlighted the wide range of help and advice that is available from the CAB and the different ways to access this.

Very enjoyable and very interesting. I learnt about their website and the vast amount of subjects they cover and how up to date it's all kept. The highlight for me was the learning being both relaxed and informative, all learning made enjoyabIe by Marcia - she's an inspiring individual and although the information given was all new and interesting to me, I'm not sure this same course by anyone else would have been the same. She also touched on the human behaviour side of things with some really useful 'people's skills' thrown in for good measure. Thank you for the invite to this course as its been both informative and inspiring.

The trainer was a lovely lady; she was knowledgeable about the subject, passionate about the AFA project, engaged well with all attendees, and successfully tailored the training based on individual roles. It was also a nice-sized group for everyone to participate in conversations if they wished to. The training was informative, interesting, and engaging and showed the wide range of subjects on which people can obtain information on the Citizens Advice (CA) website. The website is very user-friendly, with all information relevant to a particular query/scenario grouped. It was also interesting to learn about CA's letter templates on their website. Promoting CA and their work/what information and advice they can offer via their website/advisers beyond the AFA project would be good. Also, many members of the public believe that CA only guides those who are vulnerable or in crisis. Still, a lot of information on their website would be helpful for everyone, so this could be promoted more to the public (via social media, etc.).

After going on the course, I know what is expected of me, where to look for help! Really engaging, practical, hands-on course. Great networking with other people.

There is so much detailed help on the website. We can refer people very easily to CA. I would employ Marcia to deliver all training courses everywhere forever! She's great!

My eyes have been opened up to a whole new load of resources.

The templates on the website are fab!

Great reminder of questioning techniques, Good tips for dealing with agitated clients. Marcia was brilliant, engaging and informative.

The range of resources on the website and referral process are fab. A fantastic range of case studies, especially the one specific for working a school.

I learnt it is okay to refer and not try to solve problems. A very helpful course and advice on how to approach problems from the public in a civic role.

I learnt that support is always available. There is an amazing number of knowledgeable people offering this support. Thank you, Marcia, and thank you, Citizens Advice Hart! Marcia was amazing, enjoyed every minute of the course!

Good interactive training that suits all learning styles

Citizens Advice can help with virtually anything. It was wonderful to understand about an organisation you hear about but not necessarily know much about.

Citizens Advice (CA) is amazing! I didn't know so many volunteers helped run CA. Everyone should attend this training.

I learnt that I can make a difference in someone's life. The course was brilliant. Marcia was clear, concise, helpful and not demeaning. I also volunteer for MIND, and this course will crossover.
Interested in becoming an AFA Partner?
If you would like to find out more about Advice
First Aid or book a training course place...
Please contact Marcia on:
Email:
afa@citizensadvicehart.org.uk